Citizens For Law Enforcement At Its Best
---
HONORARY DEPUTY
SHERIFF'S ASSOCIATION
New Members:
Submit Applications Today!
New member enrollment applications are open. Click to apply for new membership today!
anemptytextlline

Together let's celebrate this milestone achieved through the generosity & leadership of the HDSA. WHEN: Thursday, December 14, 2023 LOCATION: Tom Ham's Lighthouse 2150 Harbor...
anemptytextlline

Together let's celebrate this milestone achieved through the generosity & leadership of the HDSA. WHEN: Thursday, December 14, 2023 LOCATION: Tom Ham's Lighthouse 2150 Harbor...
Charitable Donations are appreciated and are utilized to provide equipment and supplies for our local San Diego Sheriff Department. You will receive a letter from HDSA for your tax records - Thank You!
"giving tuesday"
Explosive Detection Canine Fundraiser
Help Support this project and let's make an impact!
Throughout the County of San Diego, there are 22 Explosive Detection Canines (EDC) available through multiple agencies. Currently the San Diego Sheriff's Department has no canines trained in explosive detection and relies on outside law enforcement agencies to provide an EDC when needed. Incorporating EDCs into our department offers numerous advantages in detecting explosive materials, enhancing deterrence, providing rapid response capabilities, and improving search results. By leveraging the unique abilities of these canines, we can significantly enhance our capacity to prevent and mitigate explosive-related threats and firearms crimes. We have already received a generous grant to purchase one EDC and need your help to purchase three additional canines. Make a donation today and help us to ensure the safety and well-being of the communities we serve.
" HDSA Wellness Center"
Sponsorship Proposal
Submit your sponsorship today and help develop our "Wellness Center"
With your help, we can together raise a generous amount of money for this great, local cause. Our goal is to procure $450,000, which will help to refurbish and open the new Wellness Center. Your partnership with the Sheriff's Department will allow us to embark on this unprecedented modernization and improvement project, which will provide vital resources to sworn staff, professional staff, and their families.
"respect project"
2023 Fundraiser
Help Support this project and let's make an impact!
We are incredibly pleased to support the Sheriff's Departments' RESPECT Project, a character-building and mentoring program designed for youth in grades 8-12 to help reduce juvenile delinquency, lower recidivism, and offer alternatives to street gangs, substance abuse, and a life trapped in the criminal justice system.
Summer months raise greater awareness around the resources needed to support these youth in our community. The RESPECT program helps fill in the gaps for young adults that rely on services provided by the school districts to ensure their needs are met. Contributions from you will have a direct impact to support this vital outreach.
MATCHING FUNDS:
$10,000 Goal
The HDSA will contribute the first $5,000.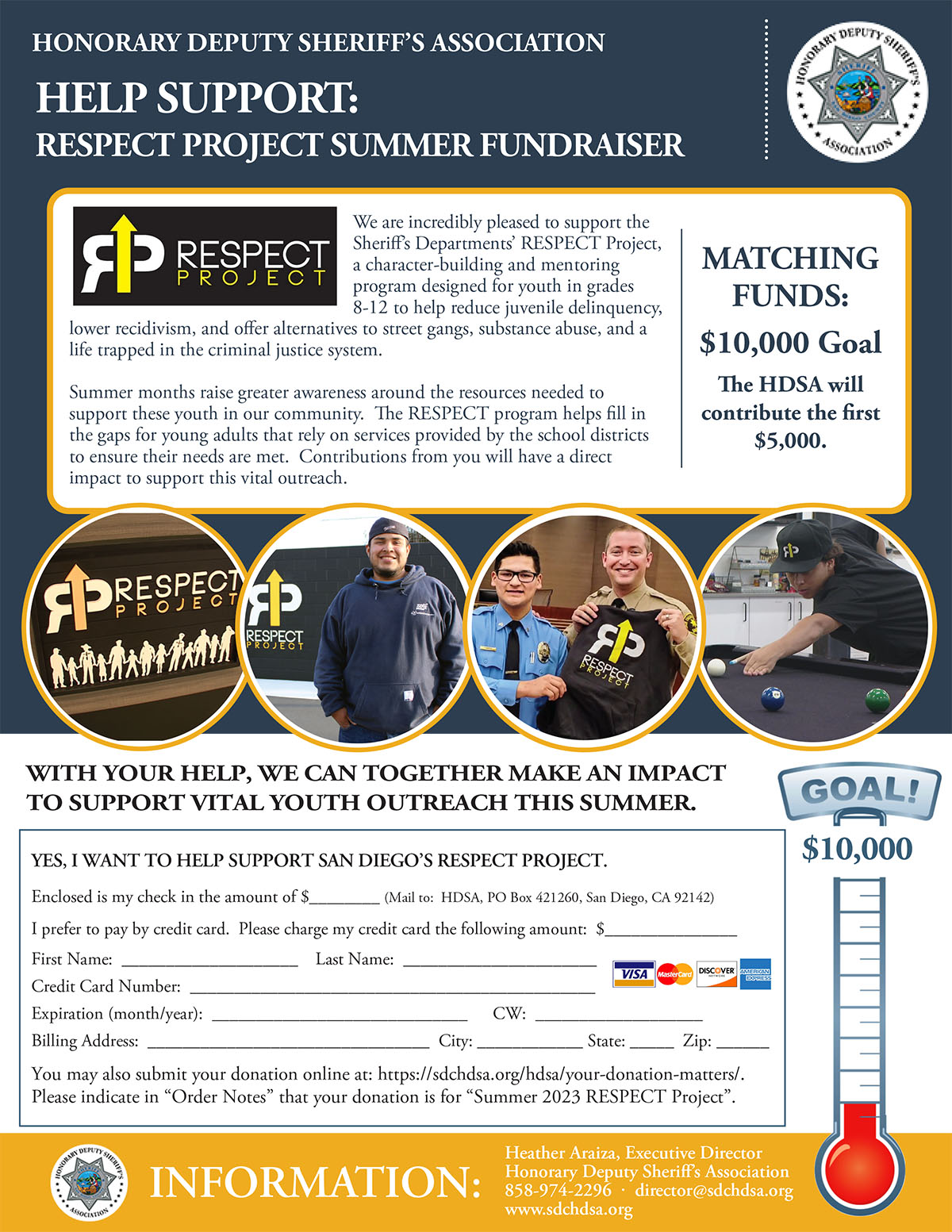 "Boots On The Ground"
2022 Fundraiser
Donate today and be a part of our Deputy Explorer Program!
• Program sponsored by SDC Sheriff's Dept in cooperation with Boys Scouts of America.
• 100% of proceeds will go to the purchase of new uniform boots for young cadets.
" Precious Cargo"
Child Car Seat Fundraiser
Make a donation today and help protect our "Precious Cargo"
• 100% of proceeds will go to the purchase of car seats for caregivers who are in need.
• The Sheriffs Dept will inspect for car seat safety and provide a new car seat for those with unqualified seats, or do not have enough seats for their children.
K9 Facility Donor Wall Plaque
Limited availability. Once they're gone, they're gone!
• Opportunity to honor those who've added richly to our lives
• Money raised will support the SDSO canine program with purchases for training, training equipment, canine medical services and more
Founded in 1974, the Honorary Deputy Sheriff's Association is a prestigious organization of business, community leaders and service-minded citizens dedicated to supporting law enforcement countywide. As a non-profit and non-political organization, the HDSA is unique as an ally of the Sheriff's Department and the county's nine police departments
While all HSDA members are personally commissioned by the Sheriff, the HDSA itself is governed by the membership and their duly elected Board of Directors. The by-laws set limits for membership at 1,000 as well as the conditions of membership, dues, and other matters.
While the HDSA operates much like service clubs such as Kiwanis or Rotary, it never loses sight of its primary mission. Important HDSA programs include: Law enforcement training activities, providing equipment and training facilities for law enforcement agencies throughout San Diego County, and awards a handgun certificate to the top shooter graduating from the San Diego Regional Law Enforcement Training Center.
The HDSA also constructed the Tactical Training Facility, a Canine Training Course, and S.W.A.T. Obstacle Course at the Sheriff's MCAS Miramar site. Most recently, the HDSA helped fund a new training facility at Otay Mesa and Sheriff's Museum in Old Town. These important facilities, worth millions of dollars, serve all law enforcement agencies in San Diego and were constructed without cost to the taxpayers. The HDSA also purchased law enforcement training and safety equipment the Sheriff's Department could not otherwise afford, as well as providing funds for management and technology training for all local agencies.
The total membership meets at least quarterly, has a great time, gets "insider" briefings on what is really happening in criminal justice, and enjoys knowing that they are indispensable to our mission of protecting the citizens and providing for public safety.
Short and Sweet Headlines are Best!
This life-saving equipment was purchased by the HDSA for deployment at ever Sheriff substation in the county.
These vests were purchased by the HDSA for wear by all K9 "deputies" in the county.
HDSA Supports volunteer units throughout the department with both equipment and training.
Membership Benefits.
All members of the HDSA are welcome to attend the membership luncheons every year, as well as the many special events that are scheduled also.